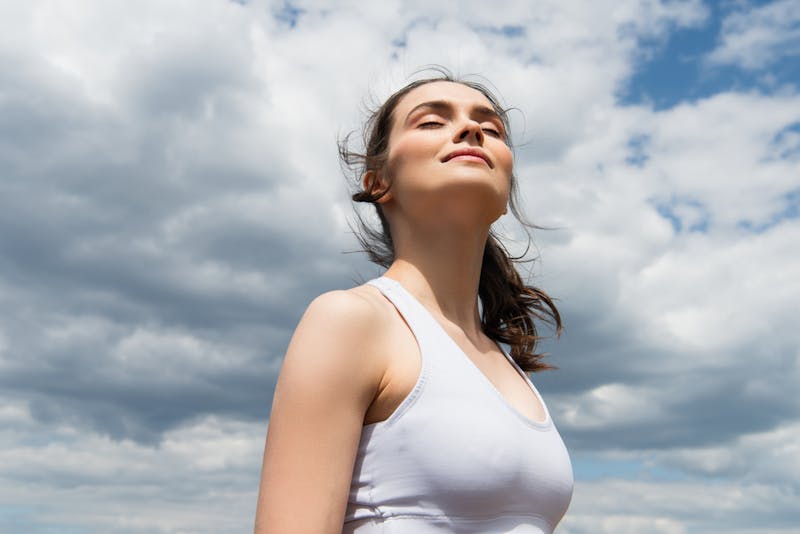 At Manuel Gigena MD Plastic Surgery in McMinnville, OR, we know that many women are unhappy with the size, shape, and even position of their breasts. For that reason, we offer different breast procedures to help women achieve their ideal proportions, including breast lift with augmentation. This procedure combines a breast lift and augmentation to deliver the most comprehensive results.
The Breast Lift With Augmentation: Combining Two Popular Cosmetic Procedures
What Is the Difference Between a Breast Lift and Augmentation?
A breast lift and augmentation are not one and the same but are two separate procedures that can be scheduled separately and combined for optimal results.
The breast lift is a procedure that surgically improves the position of the breasts without changing their size.
However, it can improve their shape by tightening the skin and lifting the breasts higher. Breast augmentation is a procedure that enhances the size, shape, and proportions of the breasts with the insertion of an implant or through a fat transfer.
Breast Lift
A breast lift is a procedure that improves the appearance of the breasts by repositioning them on the chest wall. Gravity, the natural aging process, significant weight loss, and pregnancy followed by breastfeeding can all cause the breasts to droop and sag over time. A breast lift is a surgical procedure that lifts the breasts higher to make them appear more youthful. It can also tighten the skin to naturally improve the shape of the breasts by creating new contours.
During a breast lift, the surgeon will remove excess skin to tighten the area. A breast lift does not change the size of the breasts, which is why many women choose to add an augmentation to the procedure to achieve their ideal appearance. This procedure can be performed on its own or in conjunction with other cosmetic procedures.
Breast Augmentation
Breast augmentation is a procedure that improves the size, shape, and appearance of the breasts with a surgical implant or through a fat transfer. Unlike the breast lift, breast augmentation does not lift the breasts higher on the chest wall. If you suffer from loose skin and drooping breasts but also want to improve the breasts by adding an implant or fat cells from another area of your body, you can combine the two procedures to achieve your desired results.
Customizing Your Breast Augmentation
We can perform breast augmentation using implants of different sizes and shapes or with a fat transfer. If you choose an implant, the surgeon will make an incision and insert the implant in the best position beneath the skin's surface.
With a fat transfer, the surgeon will perform liposuction to remove unwanted fat cells from a problem area on one area of the body and then prepare those fat cells for re-injection into the breasts to add natural fullness to the area. Both methods will improve the appearance of the breasts in different ways, and each has its advantages.
Frequently Asked Questions
Am I a Candidate for a Breast Lift With Augmentation?
You may be a good candidate for a breast lift with augmentation if you want to lift your breasts higher on the chest wall, improve their size, shape, and proportions, and make them look more youthful. This procedure can accomplish multiple goals during one surgical procedure.
It's also an effective option for women who have undergone breast cancer treatment or a full or partial mastectomy and want to restore breast tissue to improve their confidence in their appearance. The best candidates are in good health, understand the pre-procedure, surgery, and recovery requirements, and have realistic expectations about the surgical outcome.
Customizing Your Procedure
Once we determine that you are a good candidate for the procedure, we can customize your treatment plan. You'll choose the implant type, size, and shape with the surgeon's help, or you may determine that you want to undergo a fat transfer to add natural fullness to your breasts while improving another problem area in your body. We will also provide you with more information about the breast lift and what you can expect your results to look like post-op.
We offer several different breast procedures, including:
Breast augmentation
Breast lift
Breast reduction
Lumpectomy
Lumpectomy combined with breast reduction
Partial Mastectomy
Modified radical mastectomy
Mastectomy with skin sparing
Mastectomy with nipple and skin sparing
Sentinel lymph node biopsy
Axillary lymph node dissection
Port placement for chemotherapy
Breast reconstruction with implants or flaps
Breast Revision with fat grafting
Breast augmentation with implants or fat grafting
Breast lift with augmentation
Breast reduction
Breast implants removal
How Do I Prepare for My Procedure?
There are some ways that you can prepare for your breast lift with augmentation. If you smoke, it's important that you refrain from this habit for at least six weeks prior to your scheduled procedure. You will also need to avoid smoking for at least six weeks after your procedure to promote a healthy recovery and the best results.
Focus on Living a Healthy Lifestyle
Living the healthiest lifestyle before your procedure will prepare your body for a quick and efficient recovery. Also, enlisting a friend or family member to help you with basic household chores and duties after your procedure will enable you to rest, recover, and focus on healing. That way, you will feel free to rest instead of stressing about accomplishing basic household tasks.
A meal delivery service offering healthy options is a good investment in your recovery because it will ensure you consume nutritious foods daily so your body can heal, and you don't have to spend time or energy cooking and meal prepping. Additionally, having healthy food options on hand will prevent you from reaching for quick, accessible snack foods.
What Kind of Recovery Can I Expect?
On the day of your procedure, you will need someone to drive you to and from your appointment, as well as someone who can help you begin your recovery at home. After your procedure, you will begin your recovery immediately. You can go home the same day of your procedure and should immediately begin focusing on resting.
We will give you detailed post-op recovery instructions, and you may be provided with a compression garment to wear for a set period of time to promote drainage and recovery. It's important that you attend follow-up appointments as recommended by the surgeon so that we can monitor your recovery and ensure that you are healing well.
How Long Will My Procedure Results Last?
Both breast augmentation and breast lift are procedures that are intended to deliver permanent results. However, the aging process and the continual effect of gravity on the breasts, as well as a decrease in skin elasticity, may affect the appearance of your breasts at some point in the future. Breast augmentation, combined with a breast lift, delivers results that can last a decade or longer.
At some point, you may need an additional procedure to maintain your results. We can discuss your unique procedure and what type of results you can expect during your initial consultation so that you have realistic expectations.
Can I Breastfeed After My Procedure?
If you plan on breastfeeding after your breast lift with augmentation procedure, it's important that you discuss your intentions with the surgeon during your pre-surgery consultation.
In most cases, patients can breastfeed after their procedure. If you are currently nursing, it's important that you wait until you are done breastfeeding to schedule your procedure for the sake of your newborn baby. We can give you more details about what you can expect after your procedure during your consultation so that you can make an informed decision about breastfeeding and how it may be affected by the procedure.
What Are the Procedure Benefits?
There are many benefits to scheduling a breast augmentation and breast lift. You can accomplish multiple treatment goals during one procedure without having to schedule multiple surgeries to do so. The procedure is completely customizable, and you only have to endure one recovery period to achieve your goals and enjoy and long-term. You will also feel more confident in your clothing and general appearance.
Whether cancer treatments, nursing, weight loss, or the aging process has affected the appearance of your breasts, this combined procedure can restore a youthful appearance to your breasts and even make them look better than the breasts of your youth.
Learn More
If you are unhappy with the appearance of your breasts and want to undergo a procedure that can change that, we can help. We can schedule a consultation to learn more about you and your goals so that we can design a surgical treatment plan that will help increase your confidence and improve the appearance of your breasts. Contact us today at Manuel Gigena MD Plastic Surgery in McMinnville, OR, to learn more and schedule an initial consultation.