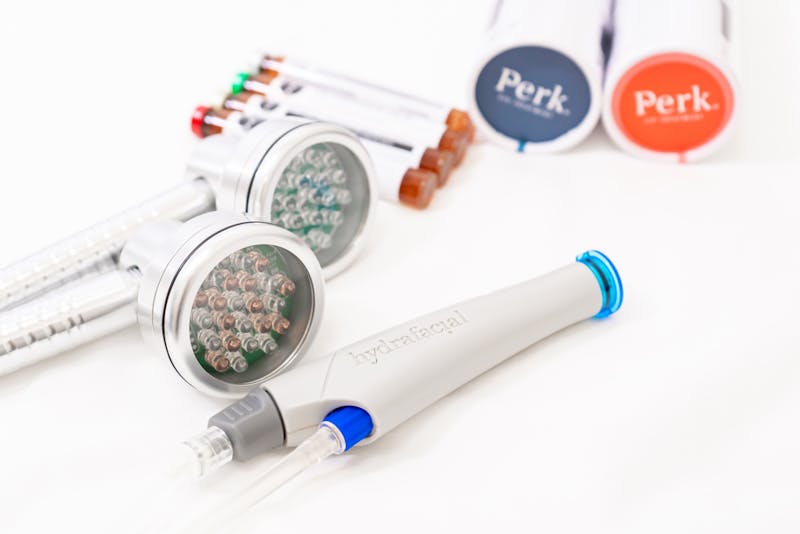 The HydraFacial is considered the gold standard of skincare, and at the office of Manuel Gigena, MD, FACS, in McMinnville, OR, we have to agree. It can be easily administered and requires no downtime. In the meantime, patients enjoy smoother, softer tissues with less acne, spots, and wrinkles – and a deep sense of soothing hydration. Still need convincing? Read further – you'll likely want to schedule your appointment before you reach the final word here.
What Are the Benefits of a HydraFacial?
The HydraFacial (HF) might be for your face what yoga is for your body. The four-step treatment continually delivers moisturizing serums to the skin while removing dead cells and other impurities. You can feel the difference immediately, as congested pores open up and tissues suddenly feel an intense wash of moisture. In fact, the word "hydra" in this therapy refers to its incredibly hydrating effects.
The HF can be completed in about 30 minutes, proving this is a fast, efficient treatment with results that also develop instantly. Equally important, no recovery time is needed. You can get back to the demands of your day without missing a beat, and all while enjoying the soothing and refreshing effects of one of the most powerful cosmetic treatments available.
Delivers Consistent Results
The rejuvenating abilities of the HF are largely owed to its handheld wand. Unlike manual facials that rely on the skill of the technician, the HF wand delivers a consistent treatment with dependable results each and every time. This wand essentially vacuums pores and infuses skin with moisture-rich serums.
Thanks to its innovative approach, the HF can improve the appearance of:
Enlarged pores
Blackheads
Age spots
Sun damage
Hyperpigmentation
Fine lines and wrinkles
Uneven skin tone
Dry skin
Oily, acne-prone skin
Provides a Pain-Free Experience
Cosmetic treatments have come a long way since the early days of cutting and pulling skin to achieve the desired effects. This evolution is perhaps most visible in the gentle nature of the HF, which feels more like a face massage than cosmetic therapy.
The wand glides across facial contours without scraping, tearing, or ripping skin as tissues are fed with a constant stream of moisture. This creates a smooth surface so you feel no pain.
Is Safe for All Skin Types
The HF is ideal for all skin types, from oily and acne-prone to dry and flaky. It's safe for sensitive tissues and can even benefit combination and/or normal skin. Likewise, patients of all skin tones can also enjoy this treatment without fear of hyperpigmentation or other damage.
What you can depend on is walking away from treatment with visible skin refinement and an even, radiant complexion. This explains why so many A-list celebrities opt for therapy before a red carpet event.
Pairs Well With Other Treatments
The HF is non-invasive, meaning you can pair it with certain other skincare treatments to enjoy broader results. Many of our patients choose to combine their HydraFacial with injectables and/or fillers.
These treatments can further soften lines and wrinkles and restore volume to natural facial curves. In the treatment plan we craft for you, we can explore additional therapies to achieve the youthful look you desire.
Can Be Fully Customized
Our staff can personalize your treatment so it meets your unique skin needs and aesthetic goals. For instance, our Deluxe version of the HF adds a customized booster to nourish your skin in the precise way it needs – whether you're experiencing excess oil, irritation and sensitivity, or extreme dryness. We follow this with LED light therapy, which can stimulate the production of collagen to naturally lift and strengthen tissues.
Alternatively, our HF Keravive Scalp Treatment cleanses and hydrates your face and scalp to revive tissues and promote healthier, faster hair growth. Last but not least, you can further personalize your HF experience with a Perk Eye or Perk Lip treatment. The former brightens and refreshes the eye area, while the latter hydrates and plumps lip for a sexier pout.
Extracts Without Irritation
Now is a good time to discuss the four steps of the HF. It starts with cleansing and exfoliation using a vortex tip that, as mentioned earlier, essentially vacuums your face.
You likely already perform these steps at home as part of your routine skincare routine, but manual processes only go so far. The HF handheld wand gently but effectively opens your pores so they can breathe for the first time in perhaps years. This means the accumulation of debris, oil, and other gunk that you can't reach manually will finally be removed.
Chemical Peel and Extraction
Our staff will then deliver a chemical peel while still using the same handheld wand. We change the applicator tip and, rather than apply irritating chemicals that cause your skin to turn red for days, infuse tissues with a gentle but effective combination of salicylic and glycolic acids. These "unglue" the debris that's lodged in your pores and on the surface of your face. And this step helps us with the next – extractions.
We know what you're thinking. Extractions are painful and demand an extensive recovery period. But those performed during the HF are completely unlike the manual extractions you imagine. The handheld wand effortlessly sucks blackheads and impurities from your pores without the squeezing and prodding you're used to. You can even see the debris collected in a cup that attaches to the wand. This assures you the treatment is working as expected.
Hydrating Serum
The final step in this luxurious process is the hydrating serum. The HF wand is used to evenly apply a hydrating serum loaded with soothing antioxidants, nourishing peptides, and other beneficial nutrients. This is the moment skin is rejuvenated and hydrated. The serum also helps seal in the detoxification that came before to give you a radiant, luminescent glow that can last between five and seven days.
Important HF Facts
The HF is the only hydra-dermabrasion (more on this in a moment) treatment that employs patented technology to cleanse, extract, and hydrate your skin. In other words, this is a branded experience, and providers need to be registered and licensed to provide treatment. It's therefore important that you schedule your HF only with a reputable facility.
Now for hydra-dermabrasion, a technique that uses the power of water and oxygen to effectively cleanse and exfoliate skin. It's a slightly newer technique in the world of cosmetic treatments and, even as it removes impurities from the pores, also maximizes blood flow to the skin and stimulates collagen synthesis.
Different From Microdermabrasion
Hydra-dermabrasion is often likened to microdermabrasion, but the two treatments are different. The latter uses microcrystals to clear pores and exfoliate the skin's top layer. This can be uncomfortable for some patients, and although it's not painful, it can leave skin red and tender. The HF causes no unwanted side effects, allowing you to even apply makeup immediately after. But you likely won't want to.
Results Build on Each Other
While one treatment will give you a gorgeous glow and deeply cleanse your skin, we generally recommend a series of treatments delivered four to six weeks apart. This is the best way to combat the early signs of aging – like wrinkles and fine lines – and maximize tissue hydration. Once your initial treatment plan is complete, we can discuss maintenance sessions to keep tissues plump, soft, and dewy.
Get Your Glow On
The HF is your key to a more radiant complexion. It reduces the appearance of fine lines, wrinkles, and sunspots and restores natural hydration levels. And it's safe for all skin tones and types. Schedule your consultation today by contacting the office of Manuel Gigena, MD, FACS, in McMinnville, OR.