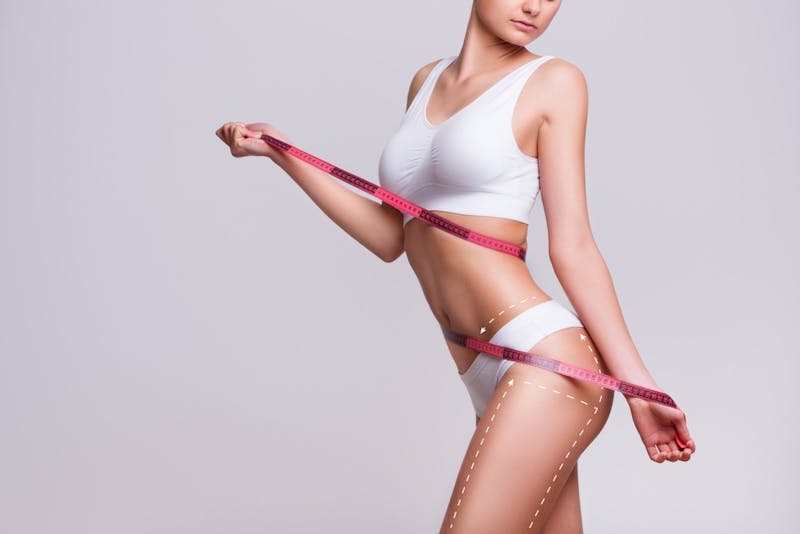 Do you struggle with unwanted body fat? Are you looking for a more sculpted, slimmer figure? Liposuction is the ultimate body contouring procedure that permanently removes extra body fat. Lipo is one of the most popular fat loss surgeries out there, as it effectively slims and trims your body.
Here's what you need to know about this fat removal procedure offered at MG Plastic Surgery.
What Is Liposuction?
Liposuction is a fat removal surgery. During the procedure, we use an instrument that emits ultrasound waves to break up stubborn fat in certain areas of your body. The ultrasonic waves dissolve fat cells, and your body gets rid of the remaining waste.
This ultrasound lipo technique liquefies fat cells. This makes it easier for your body to break them down and remove them from your system. Ultrasound liposuction is gentle and effective at destroying stubborn fat cells that get in the way of your dream body.
The fat we target is subcutaneous fat, which means it's directly under your skin. Subcutaneous fat is often the hardest to get rid of through traditional weight loss methods like diet and exercise.
Once we remove the fat cells, they are gone forever. Liposuction is one of the few permanent fat removal procedures available. The ultrasound lipo technique is gentler on your body than traditional liposuction and loosens fat cells that just won't budge during your fitness journey.
Is Lipo a Weight Loss Procedure?
No. Liposuction should not be treated as a weight loss surgery. Instead, it is a fat removal procedure.
When you are overweight or obese, you have a lot of visceral fat surrounding your organs. This is different from stubborn subcutaneous fat, which can stick to even the healthiest patient. Liposuction removes subcutaneous fat to give you a more sculpted, slimmer appearance.
Visceral fat is responsible for the health problems associated with being overweight and obese. We cannot remove large amounts of fat, as this would be unhealthy for your body. The only way to lose large amounts of weight is through diet and exercise.
If you are within 20 to 30 pounds of your goal weight, you are a good candidate for lipo. Patients who still have a lot of weight to lose should focus on consistent healthy habits first. Lipo works best for showing off hard-earned body contours and sculpted muscles.
What Are the Benefits of Getting Liposuction?
Liposuction can help you show off the fit body you have worked hard for. Stubborn fat tends to cover up toned, sculpted areas of your body, which makes you look less slim and fit than you really are. With lipo, you can finally reveal your toned body to the world.
This procedure can be paired with other body sculpting treatments. For example, if you come in for a tummy tuck, we can perform liposuction first to further slim your abdomen. Then the tummy tuck will tighten the skin in the area so you can look fit and trim. Many patients get lipo as an addition to other procedures.
Because our ultrasound liposuction technique is easier on your body than traditional lipo, you can expect a faster recovery time and more natural-looking results. Your skin will look smooth in the areas of treatment.
With the body contouring results of liposuction surgery, your clothing will fit you better than ever. This will help you enjoy the summers in Oregon with your fabulous fit body.
Overall, liposuction is a powerful body contouring treatment. If you want to slim down certain areas of your body that have resisted your fitness efforts, visit MG Plastic Surgery for a liposuction consultation.
Long-Term Results
This fat removal procedure is permanent. The ultrasonic waves cause your fat cells to disintegrate, which means that they cannot come back. The only way your results will be compromised is if you gain weight again.
The best way to maintain flawless long-term results is to stay consistent with your healthy habits. Continue to eat a healthy diet and exercise regularly. You should also keep your muscles strong and toned so that your figure stays sculpted. With plenty of hard work and determination, your lipo results will be permanent.
Lipo Treatment Areas
You are probably wondering which problem areas you can target with this revolutionary fat loss procedure. There are multiple body areas that patients commonly want to slim down with liposuction. We tailor each surgery to the patient's needs for optimal, individualized results.
Liposuction can slim down the following body areas:
Arms

Thighs

Legs

Back

Abdomen

Neck

Chin
These are the most common treatment areas because stubborn fat tends to stick to them. If you are tired of fighting to get rid of those last few pounds of body fat, get liposuction to permanently remove it.
Looking for Liposuction in McMinnville, OR?
If you are near the McMinnville, OR, area and want to achieve the slim figure you have worked hard for, contact MG Plastic Surgery. Our compassionate team of professionals will give you a consultation to determine the best treatment plan for your goals.
We know this is not an easy fat loss shortcut, but lipo can enhance your already-toned body. You will feel more motivated in the gym when you feel slim and trim. We encourage our patients to work hard for the bodies they want. Stubborn fat doesn't have to take over your physique anymore.
Book an appointment for a consultation with us to determine whether liposuction is the right fat loss treatment for you. We welcome you to our practice!